The 37th annual Myrna W. Brown Artist Competition will be held May 26-28, 2023. This flute competition is open to all flutists. No age limit! The winner of the competition will receive a $1,200 cash prize and be invited to appear as a guest artist at the Texas Flute Festival the year following the competition (with honorarium). Second and Third Place Winners will be awarded $500 and $250 respectively.
About Myrna W. Brown | 2022 Winners | Historical Winners | Commission Project | Registration
---
Repertoire
For the Preliminary round
*This round is RECORDED.
Fantasy for Flute, Op. 89 by Malcolm Arnold
Two Skazkas for Solo Flute by Lora Al-Ahmad
For the Semi-Final and Final Rounds
The required piece for the Final Round will be a new work commissioned especially for the 2023 Myrna W. Brown Competition. The music for the required piece will be sent with semi-finalist notification. Flutists selected to the Semi-Final and Final Rounds will prepare a 25-minute program of their own choosing (including the required piece in Final Round only).
The time limits for both rounds excludes any time between pieces. The program should include pieces that reflect a wide variety of styles and periods. This may include single movements of works, sonatas, concerti, and unaccompanied pieces. It is not necessary to perform all movements of a single work, but any individual movement of a work must be performed in its entirety. Cuts may be made in the accompaniment and repeats may be deleted. Entire variations may be omitted, as long as a minimum of 75% of the piece is performed.
The Semi-Final Round requires 15 minutes of music and does not require the newly commissioned piece.
The Final Round requires 25 minutes of music, which includes the required newly commissioned work. The piece will be approximately 4-5 minutes in length and will only be asked on the Final Round.
The Final Round repertoire can include previous round repertoire, or can be an entirely new program, in which the newly commissioned work must be programmed.
Procedures and Deadlines
Applicants must apply online, upload mp3 recordings of the preliminary round repertoire, and pay the nonrefundable application fee ($40) using the form below.
All entrants must be current members of the Texas Flute Society in order to participate. Entrants may join either before the competition application is submitted (use the Individual Membership Application form) or when the competition application form is submitted.
Entries must be submitted by March 15, 2023
Preliminary round recordings must be unedited. Each selection should be recorded individually in one performance.
There must be no speaking on the recordings.
There must be NO identifying personal information in the MP3 tags of the recording.
Entrants are advised that the recording quality may affect results of the preliminary round.
Semifinalists will be notified by TBD 2023.
Flutists selected from the preliminary round must be prepared to submit their entire 25-minute program for the Semi-Final/Final Rounds by TBD 2023.
Semifinalists & finalists are responsible for the accompanist's fee. A $40 deposit will be due in advance.
Semifinalists & finalists are responsible for their own travel arrangements and expenses.
All performances are open to the public.
All judges' decisions are final.
For more information, contact the Competition Coordinator.
About Myrna W. Brown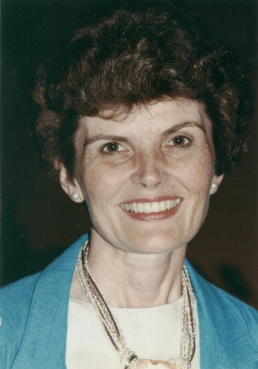 Myrna Brown (July 4, 1937 to November 25, 1990) was a founding member of the Texas Flute Society and served in many capacities. She received her Bachelor of Music from the University of Utah and her Master of Music and Doctor of Musical Arts in Flute Performance at North Texas State University. Flutists with whom she studied include Roger Stevens, William Kincaid, Joseph Mariano, John Wummer, Dr. George Morey, and Geoffrey Gilbert. In addition to serving as the Executive Coordinator of the National Flute Association, Myrna was a member of the teaching staff at the University of Texas at Arlington. Her teaching and performing experience included the Utah Symphony, Arkansas Orchestra Society, Wichita Falls Symphony, Midwestern State University, and North Texas State University.
"The world of the flute has lost one of its most gracious, enthusiastic, and generous inhabitants. We…are fortunate that so much of Myrna's time was devoted to our welfare. She helped carry the breath of musical friendship way beyond the confines of the United States."

Alexander Murray, University of Illinois
2022 Competition Winners
The Texas Flute Society is proud to announce the winners of the 2022 Myrna W. Brown Artist Competition.
Crystal Kim
1st Place and Best Performance of Commissioned Work
Crystal Kim is a flutist from North Texas, where she began her studies with Monica Song at the age of 10. She has always loved performance opportunities and has played in many capacities throughout the years, whether it be a community performance, a competition, or a virtual project. She has been awarded first prize in many competitions, including the Austin Flute Society Young Artist Competition, the Oklahoma Flute Society Young Artist Competition, the Delta Symphony Orchestra Concerto Competition, King's Peak International Music Competition, the Bonn "Grand Prize Virtuoso" International Music Competition, the Northeast Young Artist Competition, the Dallas Symphonic Festival Winds Competition, the Claire Johnson Flute Soloist Competition, and the Austin Flute Club Young Artist Competition Junior Division. She has also placed in several other prestigious competitions, such as the Central Ohio Flute Association Young Artist Competition, the Nancy Clew Eller Young Artist Competition, the Mid-Atlantic Flute Society Young Artist Competition, the MTNA Woodwind Young Artist Competition, and the Donna Marie Haire Young Artist Competition.
As a soloist, Crystal has appeared as a guest performer with the Delta Symphony Orchestra, the Northeast Orchestra, the SMU Meadows Orchestra, and the TMEA-Awarded James Martin High School Orchestra. She also enjoys playing with her peers and fellow musicians in chamber ensemble settings. In 2017, she traveled to Aix-en-Provence with a woodwind quintet formed in her undergraduate years to give concerts and study with the incredible members of the Berlin Philharmonic Wind Quintet. A formative musical experience, this inspired Crystal to continue her performance career pursuing a focus on new music in both traditional and unconventional solo and chamber ensemble settings. She continues to record parts for new compositions and has even participated in video projects with her professor Molly Barth when she was at Vanderbilt University, most notably of "The Driving Song," composed by Michael Fiday. She also particularly loved the chance to work with composer Amanda Harberg on her piece for solo flute, "Don't Forget to Write," that was commissioned by the Oklahoma Flute Society in 2022.
In the constant pursuit of adding to her musical knowledge, Crystal has performed in masterclasses with many great flutists, including Marina Piccinini, Carol Wincenc, Jim Walker, Cathy Ransom-Karoly, Michael Hasel, Conor Nelson, Lisa Garner Santa, Gloria Yun, Mary Kay Fink, and Shauna Thompson. She received her Bachelor's degree from Vanderbilt University, where she studied with Molly Barth, Leslie Fagan, and the late Philip Dikeman, and recently attained her Master's degree under the tutelage of Lorna McGhee at Carnegie Mellon University.
In her free time, Crystal enjoys watching dramatic televised singing competitions, walking dogs, digital painting, writing, trying new food spots, and studying different languages. She plans to continue private studies and pursue new musical collaborations in the Washington D.C. area.
Christine Kim
2nd Place
Christine Kim is an Asian American professional flutist and educator dedicated to cultivating community and spreading joy through music. A native Texan, she started her flute studies with Monica Song at the age of 11. As a soloist, Christine made her debut with the Meadows Symphony Orchestra in Dallas at the age of 15. This August, she will be making her international debut as guest soloist with the State of Puebla Symphony Orchestra and guest artist at the International Flute and Piccolo Festival in Oaxaca. She has also been invited by the Music Teachers National Association to perform in their
Young Artist Recital, and received a scholarship for her performance. She is a national finalist in the Music Teachers National Association's Competition and has won the Dallas Symphonic Festival Competition and Claire Johnson Flute Soloist Competition, among others. Most recently, she received 3rd Prize at the 2021 Donald Peck International Flute Competition.

Through her studies, she has found that music liberates her to express her most authentic self, and
finds joy in sharing this safe space and tool of self-expression with others. With her varied symphony
and chamber ensemble experience, she has toured Asia twice and performed at the Midwest Clinic
International Band and Orchestra Conference, Texas Music Educators Association, and at the
National Flute Association Convention. In collaboration with another flutist, she recently recorded
Peter Compo's Flute Canons. She has performed in masterclasses for Robert Langevin, Leone Buyse,
Bonita Boyd, Demarre McGill, Paula Robison, Lorna McGhee, William Bennett, Stefan Höskuldsson,
Judith Mendenhall, Jennifer Gunn, Alyce Johnson, Emma Gerstein, Conor Nelson, and Mindy
Kaufman. She has spent summers at the Orford Music Academy and Pender Island Flute Retreat.
Christine received her Master of Music at Carnegie Mellon University under Alberto Almarza and her
Bachelor of Music at Northwestern University under John Thorne.
---
Ethan Nylander
3rd Place
Ethan Nylander is a Junior Flute Performance Major studying at West Virginia University with Nina Assimakopoulos. Ethan's recent accolades include winning First Place in the 2022 Atlanta Flute Club Young Artist Competition and Carl D. Hall Piccolo Competition, First Place in the 2020 Central Ohio Flute Association Collegiate Competition, First Place in the 2021 Great Composers: Rising Talents of the Americas, and Second Place in the 2022 Flute Society of Greater Philadelphia Young Artist Competition. In the summer of 2021, he was accepted into the National Symphony Orchestra Summer Music Institute where he won First Place in the solo competition. Ethan previously played in a pre-professional Flute Quartet, the Aether Quartet, which competed and
won prizes in the WVU ChaMP Competition, the Kentucky Flute Association, and the Fischoff Chamber Music Competition.
Ethan is minoring in French at WVU, with hopes to further his studies in France for his Master's. A native of Townsend, Delaware, Ethan enjoys swimming, going on hikes, reading, and trying authentic cuisine.
Historical Winners
Register