The 35th annual Myrna W. Brown Artist Competition will be held TBA in May 2021. This flute competition is open to all flutists. No age limit! The winner of the competition will receive a $1,200 cash prize and be invited to appear as a guest artist at the Texas Flute Festival the year following the competition. Second and Third Place Winners will be awarded $500 and $250 respectively.
About Myrna W. Brown | 2021 Winners | Historical Winners | Commission Project | Registration
---
Repertoire
For the Preliminary round
*This round is RECORDED.
move it for solo flute by Carlos Simon (purchase digital copy here)
Partita in A Minor: I. Allemande and II. Courante by J.S. Bach (with repeats). Ornaments at the discretion of the competitor.
For the Semi-Final and Final Rounds
The required piece for the Final Round will be a new work commissioned especially for the 2021 Myrna W. Brown Competition. The music for the required piece will be sent with semi-finalist notification. Flutists selected to the Semi-Final and Final Rounds will prepare a 25-minute program of their own choosing (including the required piece in Final Round only).
The time limits for both rounds excludes any time between pieces. The program should include pieces that reflect a wide variety of styles and periods. This may include single movements of works, sonatas, concerti, and unaccompanied pieces. It is not necessary to perform all movements of a single work, but any individual movement of a work must be performed in its entirety. Cuts may be made in the accompaniment and repeats may be deleted. Entire variations may be omitted, as long as a minimum of 75% of the piece is performed.
The Semi-Final Round requires 15 minutes of music and does not require the newly commissioned piece.
The Final Round requires 25 minutes of music, which includes the required newly commissioned work. The piece will be approximately 4-5 minutes in length and will only be asked on the Final Round.
The Final Round repertoire can include previous round repertoire, or can be an entirely new program, in which the newly commissioned work must be programmed.
Procedures and Deadlines
Applicants must apply online, upload mp3 recordings of the preliminary round repertoire, and pay the nonrefundable application fee ($40) using the form below.
All entrants must be current members of the Texas Flute Society in order to participate. Entrants may join either before the competition application is submitted (use the Individual Membership Application form) or when the competition application form is submitted.
Entries must be submitted by March 15th, 2021

Preliminary round recordings must be unedited. Each selection should be recorded individually in one performance.
There must be no speaking on the recordings.
There must be NO identifying personal information in the MP3 tags of the recording.
Entrants are advised that the recording quality may affect results of the preliminary round.
Semifinalists will be notified by April 1st, 2021.
Flutists selected from the preliminary round must be prepared to submit their entire 25-minute program for the Semi-Final/Final Rounds by April 15, 2021.
Semifinalists & finalists are responsible for the accompanist's fee. A $40 deposit will be due in advance.
Semifinalists & finalists are responsible for their own travel arrangements and expenses.
All performances are open to the public.
All judges' decisions are final.
For more information, contact the Competition Coordinator.
About Myrna W. Brown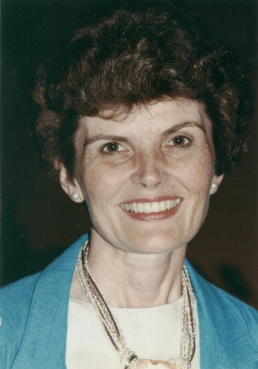 Myrna Brown (July 4, 1937 to November 25, 1990) was a founding member of the Texas Flute Society and served in many capacities. She received her Bachelor of Music from the University of Utah and her Master of Music and Doctor of Musical Arts in Flute Performance at North Texas State University. Flutists with whom she studied include Roger Stevens, William Kincaid, Joseph Mariano, John Wummer, Dr. George Morey, and Geoffrey Gilbert. In addition to serving as the Executive Coordinator of the National Flute Association, Myrna was a member of the teaching staff at the University of Texas at Arlington. Her teaching and performing experience included the Utah Symphony, Arkansas Orchestra Society, Wichita Falls Symphony, Midwestern State University, and North Texas State University.
"The world of the flute has lost one of its most gracious, enthusiastic, and generous inhabitants. We…are fortunate that so much of Myrna's time was devoted to our welfare. She helped carry the breath of musical friendship way beyond the confines of the United States."

Alexander Murray, University of Illinois
2021 Competition Winners
The Texas Flute Society is proud to announce the winners of the 2021 Myrna W. Brown Artist Competition.
You Yang
1st Place and Best Performance of Commissioned Work
Originally from Shanghai, China, You Yang was born and raised in a family of music lovers.
Her mother gave her piano lessons when she was five. She picked up the flute at the age of nine for the elementary school band. She has been enjoying performing with the orchestra around the world since she joined her high school orchestra and Shanghai Youth Philharmonic Orchestra where she served as the principal flutist. The highlights included touring with the orchestra around the USA, France, and Australia. The orchestra experiences made her decide to lead a professional musician's career. She is very grateful for her parents' support to make the music study possible for her.
As a soloist, she was won prizes in the Philadelphia Flute Society Young Artist Competition, the Atlanta Flute Club Young Artist Competition, and the NFA Masterclass Competition. As an orchestral player, she is a substitute flutist for the New World Symphony 2020-2021 season, a flute fellow of the 2020 Detroit Symphony Orchestra Summer Institute, and an opera orchestra fellow at the Miami Music Festival in 2019. Other than playing the flute, she enjoys cooking and listening to jazz music. She hopes to have a chamber group and play exciting music with like-minded musicians.
You Yang had her bachelor's degree from Cincinnati College-Conservatory of music with summa cum laude where she studied with Prof. Demarre McGill, Amy Taylor, and Dr. Brad Garner. She was a recent master's graduate with honor from the New England Conservatory Class 2020 in Paula Robison's studio. She has been a DMA candidate at the University of North Texas on a teaching fellowship since fall 2020 in Prof. Terri Sundberg's studio where she teaches undergraduate music major students and coaches chamber groups.
---
Audra Ziegel
2nd Place
Audra Ziegel is a sought-after clinician, freelance performer, and private flute instructor from Baltimore, Maryland. Audra is a frequent performer at both the national and regional level and was invited to give solo performances at consecutive National Flute Association Annual Conventions in Salt Lake City and
Orlando, as well as consecutive Mid-Atlantic Flute Conventions in 2020 and 2021. Other recent engagements include lecturing as an invited Guest Artist at the 2020 University of Virginia Flute Forum, serving as the co-principal flutist of the 2019 and 2018 International Fellowship of Conductors, Composers, and Collaborators (IFC3), a lecture at the 2019 Philadelphia Flute Fair, guest artist performances and masterclasses at Tennessee Tech University, East Tennessee State University, the
University of Delaware, and Franklin and Marshall College, as well as multiple appearances as a featured guest soloist on the Towson University Faculty Chamber Music Recital Series. Audra formerly served as principal flutist of the Hunt Valley Symphony in Baltimore and the Urbana Pops Orchestra in Urbana,
Illinois, and has performed professionally with many other ensembles throughout Maryland, Pennsylvania, Delaware, and Illinois, including the Illinois Symphony, the Delaware Symphony, the Baroque Artists of Champaign-Urbana, Charm City Players, the Central Pennsylvania Oratorio Singers,
the Yang Ying Band, the Concert Band of Central Illinois, and the Kankakee Valley Symphony. A dedicated teacher, Audra maintains a large thriving studio of private flute students and is on the faculty of The Music Space in Towson, Maryland, and St. Vincent Pallotti High School in Laurel, Md.
Audra graduated summa cum laude from the University of Cincinnati College-Conservatory of Music (CCM), earning a Bachelor's degree in Flute Performance. She received her Master of Music degree in Flute Performance from the University of Illinois at Urbana-Champaign, where she was awarded a full graduate assistantship. Audra's primary teachers include Jonathan Keeble, Bradley Garner, Jack Wellbaum, and Roger Martin.
In addition to the Myrna Brown competition, Audra has been a prizewinner in several competitions including the 2018 National Flute Association Convention Performer.Competition, the 2017 Flute Society of Washington Masterclass Competition, and second place at the2004 and 2005 Central Ohio Flute Association Young Artist Competition. She was also a quarterfinalist inthe National Flute Association Young Artist Competition in 2009.Audra is also an accomplished oil painter and has displayed her paintings at galleries and festivals inIllinois and Maryland. Her artwork is included in private collections across the US.
---
Dariya Nikolenko
3rd Place
A native of Russia, Dariya Nikolenko began her musical studies at age seven and made her first concerto appearance at nine performing the C.P.E Bach Concerto in D minor. She has appeared as a soloist with flutist Ransom Wilson performing Martin Bresnick's Double Flute Concerto Pan Penseroso with the Philharmonia Orchestra of Yale.
Ms. Nikolenko has performed at The Kennedy Center Millenium Stage and Terrace Theater, Weill Hall at Carnegie Hall, Tchaikovsky Concert Hall, Friedberg Hall, Le Poisson Rouge, Morse Recital Hall and has played at others concert venues throughout Europe and America.
Passionate about New Music, Dariya has premiered works by composers Martin Bresnick, Christopher Cerrone and Reena Esmail. While at Yale, Dariya has been a part of New Music New Haven orchestra series, which has premiered many New Music works of outstanding Yale composers.
Dariya was named a finalist at Byron Hester Competition and Nancy Clew Eller Artist Competitionins 2021, and won First prize at the Golden Classical Music Awards International Competition in 2020, First prize and the Grand prize in USA International Music Competition in Boston, and the First prize in Baltimore Music Club Winds and Brass Competition. Ms. Nikolenko has also been awarded Frances Wickes and Keith Wilson scholarships, and Yale School of Music scholarship along with Peabody Grant.
Dariya has taken part in the Internationale Meisterkurse with Marina Piccinini in Zürich, Switzerland, and the Moritzburg Festival Academy in Germany, and has performed in master classes for Robert Langevin, Aaron Goldman, Lorna McGhee, Maxence Larrieu, Jeffrey Khaner, Emmanuel Pahud, Jim Walker and Carol Wincenc. She has also appeared at Kennedy Center Millennium Stage as a part of Yale Percussion Group and at Weill Recital Hall in Carnegie Hall with Yale guitarists.
Ms. Nikolenko graduated with honors from the Moscow Academic College of the Moscow Conservatory, where she studied with Uriy N. Dolzhikov, from Johns Hopkins' Peabody Conservatory with Bachelor of Music Degree where she studied with Marina Piccinini and Yale School of Music with Master of Music Degree where she studied with Ransom Wilson. She also holds a Professional Studies Program Certificate in Orchestral Flute from Manhattan School of Music where she studied under the guidance of principal flutist of New York Philharmonic, Robert Langevin.
Ms. Nikolenko was a flute teaching fellow at Yale University from 2009-2011. She currently serves as Flute Faculty at the European Arts Academy in Chantilly, Virginia, Flute Instructor at St. Andrews Episcopal School in Potomac, Maryland, and Soulfege Music Studio.
Historical Winners
Register