The 38th annual Myrna W. Brown Artist Competition will be held TBD, 2024. This flute competition is open to all flutists. No age limit! The winner of the competition will receive a $1,200 cash prize and be invited to appear as a guest artist at the Texas Flute Festival the year following the competition (with honorarium). Second and Third Place Winners will be awarded $500 and $250 respectively.
About Myrna W. Brown | 2023 Winners | Historical Winners | Commission Project | Registration
---
Repertoire
For the Preliminary round
*This round is RECORDED.
Partita in A minor: Mvt 3 and 4 by J.S. Bach (no repeats; with ornaments)
Memory for Solo Flute by Chen Yi
For the Semi-Final and Final Rounds
The required piece for the Final Round will be a new work commissioned especially for the 2024 Myrna W. Brown Competition. The music for the required piece will be sent with semi-finalist notification. Flutists selected to the Semi-Final and Final Rounds will prepare a 25-minute program of their own choosing (including the required piece in Final Round only).
The time limits for both rounds excludes any time between pieces. The program should include pieces that reflect a wide variety of styles and periods. This may include single movements of works, sonatas, concerti, and unaccompanied pieces. It is not necessary to perform all movements of a single work, but any individual movement of a work must be performed in its entirety. Cuts may be made in the accompaniment and repeats may be deleted. Entire variations may be omitted, as long as a minimum of 75% of the piece is performed.
The Semi-Final Round requires 15 minutes of music and does not require the newly commissioned piece.
The Final Round requires 25 minutes of music, which includes the required newly commissioned work. The piece will be approximately 4-5 minutes in length and will only be asked on the Final Round.
The Final Round repertoire can include previous round repertoire, or can be an entirely new program, in which the newly commissioned work must be programmed.
Procedures and Deadlines
Applicants must apply online, upload mp3 recordings of the preliminary round repertoire, and pay the nonrefundable application fee ($40) using the form below.
All entrants must be current members of the Texas Flute Society in order to participate. Entrants may join either before the competition application is submitted (use the Individual Membership Application form) or when the competition application form is submitted.
Entries must be submitted by March 15, 2024
Preliminary round recordings must be unedited. Each selection should be recorded individually in one performance.
There must be no speaking on the recordings.
There must be NO identifying personal information in the MP3 tags of the recording.
Entrants are advised that the recording quality may affect results of the preliminary round.
Semifinalists will be notified by TBD 2024.
Flutists selected from the preliminary round must be prepared to submit their entire 25-minute program for the Semi-Final/Final Rounds by TBD 2024.
Semifinalists & finalists are responsible for the accompanist's fee. A $40 deposit will be due in advance.
Semifinalists & finalists are responsible for their own travel arrangements and expenses.
All performances are open to the public.
All judges' decisions are final.
For more information, contact the Competition Coordinator.
About Myrna W. Brown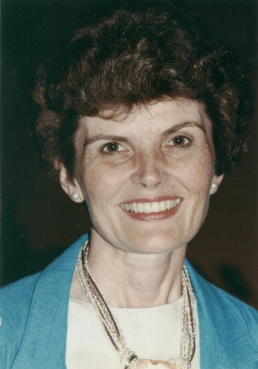 Myrna Brown (July 4, 1937 to November 25, 1990) was a founding member of the Texas Flute Society and served in many capacities. She received her Bachelor of Music from the University of Utah and her Master of Music and Doctor of Musical Arts in Flute Performance at North Texas State University. Flutists with whom she studied include Roger Stevens, William Kincaid, Joseph Mariano, John Wummer, Dr. George Morey, and Geoffrey Gilbert. In addition to serving as the Executive Coordinator of the National Flute Association, Myrna was a member of the teaching staff at the University of Texas at Arlington. Her teaching and performing experience included the Utah Symphony, Arkansas Orchestra Society, Wichita Falls Symphony, Midwestern State University, and North Texas State University.
"The world of the flute has lost one of its most gracious, enthusiastic, and generous inhabitants. We…are fortunate that so much of Myrna's time was devoted to our welfare. She helped carry the breath of musical friendship way beyond the confines of the United States."

Alexander Murray, University of Illinois
2023 Competition Winners
The Texas Flute Society is proud to announce the winners of the 2023 Myrna W. Brown Artist Competition.
Leslie Richmond
1st Place and Best Performance of Commissioned Work
Flutist Leslie Richmond was born in Portland, Oregon. In her hometown, she was the winner of the MetroArts Young Artists at the Schnitz competition, the Vancouver Symphony Young Artists competition, and the Portland Youth Philharmonic competition, after which she was invited several times to perform as soloist with orchestra. She was also a three-time first prize winner of the Oregon State Soloist Contest. More recently, she was a prize winner at the 'Clés d'Or' Competition in Paris, the Young Artists Competition of the Flute Society of Washington, and the Golden Classical Music Awards for which she was invited to perform in a recital at Carnegie Hall.
Recognized for her work as a chamber artist and orchestral musician, she is co-founder of Ensemble Thaïs with violinist David Benetah, and a member of the 'Latitudes' flute quartet. She has performed with orchestras at festivals in the United States, South America, and Europe under the baton of conductors Gustavo Dudamel, Josep Pons, Cristian Macelaru, and Kent Nagano, among others. Passionate about education and outreach, she is state-certified to teach in France at the highest levels and regularly invited to lead workshops for the nonprofit organization 'Les Concerts de Poche.'
Leslie holds degrees in flute performance and French literature from Rice University, a 'Diplôme de Concertiste' from the École Normale Supérieure de Musique de Paris, and a Masters degree from the Escola Superior de Musica de Catalunya in Barcelona. Principal teachers include Vicens Prats, Jean Ferrandis, Leone Buyse, and other influences include Samuel Coles, Julien Beaudiment and Sandrine Tilly. She lives in Toulouse, France and teaches at the Foix-Varilhes Conservatory in the Ariège province.
I-Ling Emily Ho
2nd Place
I-Ling Emily Ho is from Taiwan. She is currently pursuing a Doctoral Degree in Flute Performance at the University of Iowa under the guidance of Professor Nicole Esposito. She served as a full-time flute player in the Guiyang Symphony Orchestra from 2020 to 2021, and as a substitute musician in the Shanghai Symphony Orchestra from 2018 to 2020. She won a Performance Certificate from Shanghai Orchestra Academy in 2018 and graduated with a Master's Degree from the Shanghai Conservatory of Music in 2019. Between 2018-2019, She was selected to participate in the Asian Youth Orchestra Music Camp to perform throughout Asia. In 2020, she won the first prize in the chamber category at Northern Music International Competition; First Prize in the International Grand Music Competition Folklore Festival ICH Partner of the UNESCO Woodwind Category. In addition to performing, she is also committed to music education. She received the Best Teacher Award at Hong Kong Culture Festival Competition in 2018, and at the China Youth Music Competition in 2021. During her doctoral studies, she has been a member of the UIOWA Symphony Orchestra and recently completed her first DMA I recital. In 2023, She participated in and performed the flute at the Iowa Flute Festival and played the piano in the Earthquake Relief Concert for Turkey and Syria. She has recently been selected as one of the 15 quarterfinalists for the Young Artist Competition at the National Flute Association Convention.
---
Jessica Morrow
3rd Place
Jessica Morrow is an accomplished young flutist from Rowlett, Texas, and has found success in performing and teaching the flute with tremendous dedication. Before beginning her studies in Colorado, Jessica previously ran her own studio of 40+ students in the Rockwall, TX area where she taught students of all ages. Ms. Morrow has performed with the Longmont Symphony Orchestra, Wichita Symphony Orchestra, South Arkansas Symphony Orchestra, and the Sherman Symphony Orchestra, and is a previous winner of the Texas A&M University-Commerce Concerto Competition in 2016 with Mike Mower's Sonata Latino. Jessica has also played in masterclasses for world-renowned flutists such as Jasmine Choi, Carol Wincenc, Raffaele Trevisani, Jennifer Grim, and Stephen Clark. Currently, Jessica is pursuing her DA in flute performance at the University of Northern Colorado under the tutelage of Dr. James Hall and Dr. Sophia Tegart, where she also serves as a graduate teaching assistant. Her duties include teaching undergraduate lessons, holding a weekly technique class, performing with the university ensembles, and running the UNC flute studio's social media accounts. Previous to her studies at UNC, Jessica received her MM and BM in flute performance from Texas A&M University-Commerce where she studied with Dr. Julee Kim Walker.
Historical Winners
Register