The 35th annual Myrna W. Brown Artist Competition will be held TBA in May 2021. This flute competition is open to all flutists. No age limit! The winner of the competition will receive a $1,200 cash prize and be invited to appear as a guest artist at the Texas Flute Festival the year following the competition. Second and Third Place Winners will be awarded $500 and $250 respectively.
About Myrna W. Brown | 2020 Winners | Historical Winners | Commission Project | Registration
---
Repertoire
For the Preliminary round
*This round is RECORDED.
move it for solo flute by Carlos Simon (purchase digital copy here)
Partita in A Minor: I. Allemande and II. Courante by J.S. Bach (with repeats). Ornaments at the discretion of the competitor.
For the Semi-Final and Final Rounds
The required piece for the Final Round will be a new work commissioned especially for the 2021 Myrna W. Brown Competition. The music for the required piece will be sent with semi-finalist notification. Flutists selected to the Semi-Final and Final Rounds will prepare a 25-minute program of their own choosing (including the required piece in Final Round only).
The time limits for both rounds excludes any time between pieces. The program should include pieces that reflect a wide variety of styles and periods. This may include single movements of works, sonatas, concerti, and unaccompanied pieces. It is not necessary to perform all movements of a single work, but any individual movement of a work must be performed in its entirety. Cuts may be made in the accompaniment and repeats may be deleted. Entire variations may be omitted, as long as a minimum of 75% of the piece is performed.
The Semi-Final Round requires 15 minutes of music and does not require the newly commissioned piece.
The Final Round requires 25 minutes of music, which includes the required newly commissioned work. The piece will be approximately 4-5 minutes in length and will only be asked on the Final Round.
The Final Round repertoire can include previous round repertoire, or can be an entirely new program, in which the newly commissioned work must be programmed.
Procedures and Deadlines
Applicants must apply online, upload mp3 recordings of the preliminary round repertoire, and pay the nonrefundable application fee ($40) using the form below.
All entrants must be current members of the Texas Flute Society in order to participate. Entrants may join either before the competition application is submitted (use the Individual Membership Application form) or when the competition application form is submitted.
Entries must be submitted by March 15th, 2021

Preliminary round recordings must be unedited. Each selection should be recorded individually in one performance.
There must be no speaking on the recordings.
There must be NO identifying personal information in the MP3 tags of the recording.
Entrants are advised that the recording quality may affect results of the preliminary round.
Semifinalists will be notified by April 1st, 2021.
Flutists selected from the preliminary round must be prepared to submit their entire 25-minute program for the Semi-Final/Final Rounds by April 15, 2021.
Semifinalists & finalists are responsible for the accompanist's fee. A $40 deposit will be due in advance.
Semifinalists & finalists are responsible for their own travel arrangements and expenses.
All performances are open to the public.
All judges' decisions are final.
For more information, contact the Competition Coordinator.
About Myrna W. Brown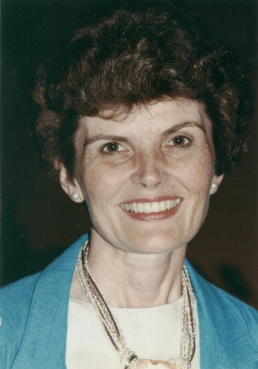 Myrna Brown (July 4, 1937 to November 25, 1990) was a founding member of the Texas Flute Society and served in many capacities. She received her Bachelor of Music from the University of Utah and her Master of Music and Doctor of Musical Arts in Flute Performance at North Texas State University. Flutists with whom she studied include Roger Stevens, William Kincaid, Joseph Mariano, John Wummer, Dr. George Morey, and Geoffrey Gilbert. In addition to serving as the Executive Coordinator of the National Flute Association, Myrna was a member of the teaching staff at the University of Texas at Arlington. Her teaching and performing experience included the Utah Symphony, Arkansas Orchestra Society, Wichita Falls Symphony, Midwestern State University, and North Texas State University.
"The world of the flute has lost one of its most gracious, enthusiastic, and generous inhabitants. We…are fortunate that so much of Myrna's time was devoted to our welfare. She helped carry the breath of musical friendship way beyond the confines of the United States."

Alexander Murray, University of Illinois
2020 Competition Winners
The Texas Flute Society is proud to announce the winners of the 2020 Myrna W. Brown Artist Competition.
Yi Xiang
1st Place and Best Performance of Commissioned Work
Yi Xiang, a young flutist from China, is currently a candidate for the Doctor of Musical Arts degree at Eastman School of Music, from the studio of Prof. Bonita Boyd. As the winner of the Eastman Concerto Competition, her performance with orchestra was given in the prestigious Kodak Hall in October 2018. Ms. Xiang has also won the Rochester Flute Association Emerging Artist Competition in October 2019. Additionally, Ms. Xiang has been a finalist in numerous competitions, including the 2020 Seattle Flute Society Young Artist Competition (postponed), the 2020 Eastern Connecticut Symphony Orchestra Instrumental Competition (postponed), the 2017 Mika Hasler Young Artist Competition, and the 2014 & 2016 New York Flute Club Competition.
In 2019, Ms. Xiang has been invited to the fellowship program at the Bowdoin International Music Festival and has been an active performer in a series of concerts. "The Pareidolia Trio" which she has co-founded in 2015 won the Fuchs Chamber Music Competition of that year. Later in December, Ms. Xiang has been selected to attend the Forum Artium Masterclass Series in Germany, under the instruction of Prof. Andrea Lieberknecht from Hochschule für Musik und Theater München. Meanwhile, she has been devoting to a career of teaching since 2016. Ms. Xiang completed her study for the Bachelor of Music degree with Ms. Linda Chesis at Manhattan School of Music in 2016. She was then awarded the Master of Music degree in 2018 from the Shepherd School of Music at Rice University, studying with Prof. Leone Buyse.
---
Hyunjee Lee
2nd Place
Praised for her expressive, passionate, and engaging playing, flutist Hyunjee Lee has been fascinated by the idea of bringing life to written music since she was little. Her goal as a performer is to lead the audience to immerse in the inherent beauty of each piece she plays. Hyunjee made her solo debut with Yonsei Sinfonietta at age 18 performing Mozart's Flute Concerto in G Major. Since her debut, she has performed numerous solo, chamber, and ensemble concerts. She was a flutist at Seoul Philharmonic Youth Orchestra and has appeared at Dallas Winds, KT chamber orchestra and Festival orchestra. Highlights of her competition experiences include winning the first flute prize at the Woohyun Woodwinds Competition and performing as a finalist at Myrna W. Brown Competition 2019. She was named a finalist for Byron Hester competition 2020 and will compete the final round this fall. Also, her woodwind quintet group won a chamber music audition held by the Seoul Arts Center and performed a recital in their concert hall.
As a recipient of Wind and Percussion Scholarship, Hyunjee is currently pursuing her DMA degree at the University of North Texas where she teaches flute lessons and coaches chamber groups as a teaching fellow. She is a graduate of Seoul Arts High School and holds MM from San Francisco Conservatory of Music and BM from Ewha Womans University. Her principal teachers include Timothy Day, Terri Sundberg, Dr. James Scott, MyungJooAhn, and Young-ji Song.
---
Denis Savelyev
3rd Place
First-prize winner of the 2017 New York Flute Club Competition, Denis Savelyev is also member at The Orchestra Now under the direction of Leon Botstein in New York. From the Western Ukraine, Mr. Savelyev came to the USA five years ago to earn his MM and Professional Studies Diploma, both at the Mannes School of Music in New York, where he studied with Judith Mendenhall. Mr. Savelyev was born in Lviv, Ukraine and began studying the flute at age five. He was awarded a place at the Gnessin Academy of Music in Moscow, where he studied with Albert Hofmann. Orchestral positions include with the Mariinsky Theater in Vladivostok, the New York Symphony Ensemble on its Japanese tour in 2016, and Manhattan Symphonie. As a soloist, he has performed at the Ukrainian Institute of America, the Moscow Music House, with the Lviv Philharmonic, at the University of Nevada, and Carnegie Hall where he gave the world premiere of his own arrangement for the flute of Virko Baley's Partita for Violin and Piano.
The most recent awards, Denis received by winning the second prize at the highly competitive 2019 Young Artist Competition at the National Flute Association and first prize at the New Jersey Flute Society Young Artist Competition. Mr. Savelyev is active in participation at competitions, festivals, concerts and masterclases as soloist, chamber and orchestra player in the USA, Asia, and Europe.
Historical Winners
Register